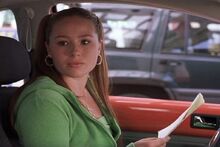 Gabriella is Sam's other stepsister. She is the shorter twin and the older twin by a minute and 26 seconds. According to Brianna, she never lets her sister forget it. Gabriella has a red car but is almost always seen wearing green. She sometimes wears pink/red/orange. Her car was sold by Sam for college tuition money. Gabriella's arm was seen in a garbage bin holding a news paper and says "Ooh i got it , I got it!" Now she is last seen working in Hal's Diner she is seen with Brianna as waitresses; Gabriella is seen fat. She slipped with Brianna on what Fiona mopped, and Fiona fell with them. It is unknown what happens to Gabriella afterwards.
Gabriella was portrayed by Lilli Babb as an 10-year-old and Andrea Avery as a 17-18-year old teenager.
Appearance
Edit
Gabriella is older than Brianna by a minute and 26 seconds but much shorter than her sister as a teenager. She and Brianna always wear matching outfits in different colors. Gabriella is mostly seen in green but is sometimes seen in red, orange, or pink.She has dark red hair and is rather doughy.
Scenes in Pink
Edit
Gabriella wore a pink top When Brianna was reading Sam's emails.She overheard Brianna saying Sam was Cinderella.
Gabriella wore pink in the scene where Sam confronted Fiona, Brianna, and Gabriella herself for her humiliation and miserable life.
Gabriella wore a pink top when Sam told her stepfamily that she was selling their fancy cars for her college tuition money.
Scenes in Green
Edit
Gabriella wore green for most of the movie. The last time she was seen wearing green was when she and Brianna cried when Sam and Austin kissed in the rain at the football game.
Personality
Edit
Like Brianna, Gabriella is very spoiled. Gabriella is very lazy and pushy. She and Brianna get all over Austin Ames to steal him away from their stepsister and have him all to themselves. Like Brianna, Gabriella is jealous of her stepsister because unlike them, she's very smart. Brianna tells Gabriella that she's always telling her that she (Gabriella) is the older twin and never lets Brianna forget that. Gabriella is very stupid but smarter (street-smart) than Brianna. Gabriella is very clumsy and she is ugly on the outside as well as ugly on the inside.